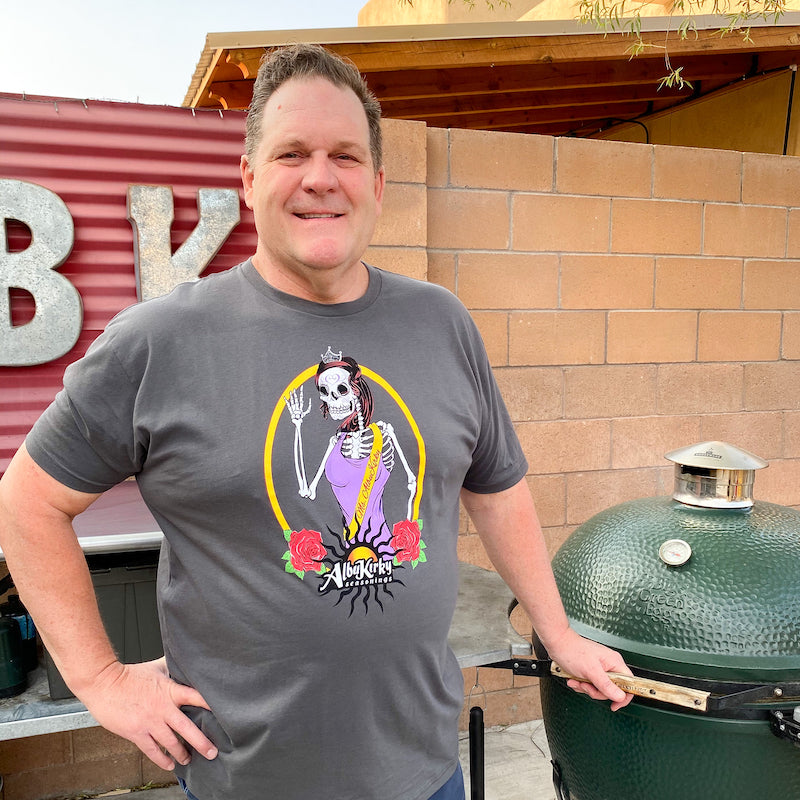 Everything is on sale!
20% OFF all 6oz rubs & sauces!
10% OFF all 12oz rubs, combos & gift boxes! 
FREE SHIPPING on orders $50 and over! 
We have dusted off our favorite T-shirt design and brought it back to share with you!

This stylish tee was designed by our talented friend Joel Atkins. We originally commissioned Joel to create this piece for Team AlbuKirky to wear in the 2013 Disc-It Round Up, our favorite annual charity cooking competition. Our booth, that year, was decorated in a Dia de los Muertos theme complete with a 5 ft. plastic skeleton dressed as a beauty contestant we named Beatrix. She donned a wig, crown and evening gown. Folks were enamored, asking lots of questions about her and posing to take pictures with her. She was clearly the Belle of the Ball. 

Beatrix has appeared on several AlbuKirky T-shirts over the years and made appearances at the Fiery Foods Show, Chocolate & Coffee Fest, and many local events. We've decided she's too special to keep to ourselves, so Joel has graciously given her an update and we're now sharing her with you. 
*Model is wearing a 2XL.
Features include:
-100% Cotton
-Comfortable & Light Weight
-Pre-shrunk
-Classic fit
Visit AlbuKirky The Blog for recipes and lots of culinary commentary.