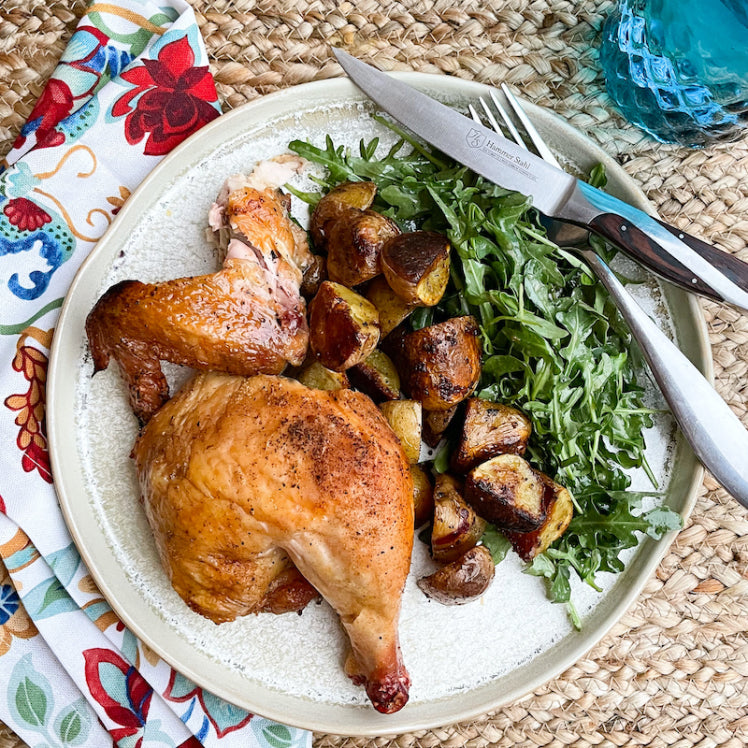 There are very few dishes as simple or delicious as a roasted chicken. It's a minimalist dish with maximalist flavor. Sure, you can massage it with fancy oils and butters. You can carefully nestle exotic minced herbs under it's skin. Then, you can serve it with sauces only the smartest French exchange students can pronounce, but really there is only one goal. To achieve perfectly crispy, lightly seasoned skin, that gives a subtle, sexy hint at the juicy, tender chicken that lies beneath.
Thomas Keller's Recipe
We've been obsessed with the perfect roasted chicken for several years and the best recipe we've discovered is by Thomas Keller. He pre-salts the bird and brings it to room temperature by letting it sit out on the counter for approximately an hour before roasting. He does not recommend rinsing the bird. This adds too much moisture to the skin and also poses health safety issues. Instead, he pats the bird dry as much as possible and does not add any additional fats to the skin.
Chicken skin contains plenty of tasty fat, so really, what would be the point? Then he pops it into a blazing hot 450 degree oven and roasts for roughly an hour or until it hits an internal temp of 165 degrees. That's it. Super simple and it's the best version of roast chicken we've ever made. So it's the method we turn to again and again.
Gabrielle Hamilton's Recipe
Fast forward a few years. We're watching the very excellent series, The Mind of a Chef on PBS, narrated and produced by a now much missed Anthony Bourdain. The featured chef for the first half of Season 4 was Gabrielle Hamilton, chef of the lauded New York City restaurant, Prune.
In episode 5, she cooks with a longtime family friend at his house,. But she first forages for various wild greens by a nearby creek gathering watercress, dandelions, fiddleheads, etc. In his backyard, they secure several rabbits to a spit and roast them over a trough lined with foil containing pieces of gauncali, basting the rabbits with olive oil and herbs that rain down over the bits of fat below. It appears that the rabbits soon start to render their own fat. Then Gabrielle adds the other bits of vegetation to the trough. The idea of bathing everything in the rendered rabbit fat made me think of the very French preparation of rotisserie chicken roasted over potatoes. I asked Kirk, "Can we figure out a way to do this on the grill"?
Turns out, it's very easy to create this dish on the grill. And the results are everything we hoped they would be. I've added lots of pics below. But feel free to scroll past to the recipe located at the bottom of this post.
INSTRUCTIONS
Start by spatchcocking a chicken (or two). It's a very easy process. The basic premise is as follows…
Remove the giblets and any other items that might have been placed in the cavity.
Turn the bird over, breast side down and run a knife down each side of the backbone or use kitchen shears to remove it. Set it aside and consider freezing it for later use in homemade stock.
Flip the bird over, breast side up, and press down firmly on the breastbone until you hear it crack. Voila!
The key to achieving perfectly crispy, caramel colored skin is to remove as much moisture as possible during prep. Lay the bird out on a sheet pan breast side up and gently. But thoroughly, pat it dry using paper towels. Pre-salt it using Diamond Crystal kosher salt. Then, let it sit out at room temperature about an hour before grilling or (if you have the time and did some planning), let it sit overnight, uncovered in the fridge. Right before you're ready to put it on the grill, hit it with your favoriting seasoning/rub. We used our Green Chile Rub, it's excellent on chicken, particularly roasted chicken.
Meanwhile, oil a fairly large cast iron skillet with 3 tablespoons of olive oil. The chicken fat will start to render and drip down into the pan while the chicken roasts. But the olive oil will get the process started and make clean up easier. The cast iron skillet pictured is by Lodge and runs about 17 inches. Probably too big for most people's needs. But when we make this dish, we always roast two chickens at one time and set it up on our X-large Big Green Egg. The pan is perfectly sized for our set up and we can catch all that luscious chicken fat in this ginormous pan.
If you opt to roast one chicken, then a smaller pan can easily be used. Try not to overcrowd the pan with potatoes. The goal is to have the surface of the potatoes in maximum contact with the pan so they can fry in the chicken fat.
Our Big Green Egg set up is nothing fancy and requires no special equipment. We set it up for indirect heat by building the fire in the bottom, then adding the plate setter. This will allow the heat to circulate throughout the dome and around the chicken. Top with the grate. These next steps are how we do it based on the things we have available to us. Use these steps as a guideline and see what works best for you.
We place the skillet of potatoes on the grate, then arrange three bricks around the skillet. This leaves the front of the skillet open so we can pull the pan out to stir the potatoes. We make sure the lid will clear the bricks and pan so we won't have any trouble closing it. Next, we top the bricks with the cast iron grate from our Large Big Green Egg. But really any rack that fits will do. Arrange the chickens on top and we're ready to go.
We're firm believers in more is more, so we always roast two chickens at once, requiring a larger set up. If you opt to do just one chicken, a smaller set up will be easier to accommodate.
Why do we believe this method is superior to others? The set up allows the heat to circulate around the chicken(s) roasting them evenly and not sacrificing any of the skin to a soggy, rubbery mess that might be the result of roasting it laying flat in a pan. During the roasting process, the chicken(s) will begin to rain fat directly over the pan below, bathing each potato in luscious chicken fat. The potatoes get stirred in the pan every 15-20 minutes and after roughly an hour, we are left with perfectly roasted chicken, juicy & tender inside, encased in shatteringly crispy skin on the outside. The potatoes are also perfectly crispy and sport a deep flavorful mahogany hue and a creamy soft interior made all the more delicious by the green chile seasoned fat.
ALBUKIRKY ROASTED CHICKEN OVER POTATOES
Ingredients
1 or 2 whole chickens (spatchcocked)
2-3 lbs golden potatoes (halved or quartered depending on their size)
AlbuKirky Seasonings Green Chile Rub (to season)
Kosher salt (Diamond Crystal)
Olive oil
Instructions
Thoroughly pat the skin of the spatchcocked chicken(s) dry using paper towels. Pre-season with Diamond Crystal Kosher Salt by generously sprinkling the salt over both sides of the bird(s) and being sure to season in the joint areas (the wings and legs). We do not recommend using Mortons for this application as it is much saltier than Diamond Crystal. Also, there is an additional application of seasoning that may make the chicken(s) too salty. Let them sit at room temperature one hour before roasting or in the fridge overnight, uncovered.
Oil a large cast iron skillet using 2-3 tablespoons of olive oil. Add the halved or quartered potatoes to the pan in a single layer. Next, season generously with AlbuKirky Seasonings Green Chile Rub.
Set up the Big Green Egg or grill for indirect cooking as follows. Make sure you are able to close the lid. The set up listed below is working from the bottom up…
charcoal
platesetter
rack/grate
cast iron skillet of potatoes
bricks arranged around the skillet leaving the front open to slide the skillet in and out
rack/grate – edges resting on the bricks
Right before you're ready to roast, season the chicken(s) with AlbuKirky Seasonings Green Chile Rub.
Slide the pan of potatoes onto the base rack/grate. Place the chickens on the top rack/grate. The chickens should be situated over the pan of potatoes, so that the chicken fat will render into the pan.
Close the lid and roast for approximately one hour at 350-400 degrees or until the chicken(s) reach an internal temperature of 165 degrees.
Stir the pan of potatoes every 15-20 minutes. Pull them off the grill when they have reached a deep golden brown.
Once chicken(s) are done remove them to a sheet pan and let them rest 15-20 minutes. Carve chicken into quarters and remove wings, serve with potatoes and a lightly dressed, simple green salad.
A perfect summer dinner.
Pick up a bottle of our Green Chile Rub and give this roasted chicken recipe a try! And drop us a note if you do!
Stock up on our rubs, sauces and jellies at AlbuKirkySeasonings.com and keep up with what we're cooking on our Facebook and Instagram pages. See you next time!