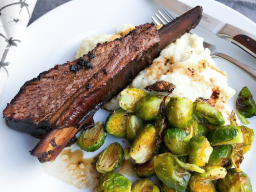 Before we get into this coffee braised beef rib recipe, it's time to announce a new addition to the family. Our family of AlbuKirky Seasonings rubs and sauces, that is!
We've partnered with NM Piñon Coffee, one of the finest and long standing coffee roasters in New Mexico, to bring you our latest product…Red Chile Piñon Coffee Rub! NM Piñon Coffee has been roasting beans and waking up New Mexicans with their delicious piñon flavored elixir for over twenty years.
This deliciously, robust, local coffee is the foundation for our newest rub. We've paired it with warm red chile and other traditional BBQ spices to create an eye-opening blend for beef, chicken or pork. This coffee forward rub is lower in sodium and sugar; a perfect addition for the health conscious griller's seasoning arsenal.
What better way to celebrate a tasty new rub, than with a tasty new recipe. Exceptional on all cuts of beef, we chose a whole beef short rib plate for its inaugural culinary voyage. This cut is meaty, fatty and rich…a nice contrast to the acidic notes of the coffee rub. The braising liquid helps to break down the meat and continue to infuse it with flavor. It also creates a savory sauce that's excellent drizzled over mashed potatoes or whatever starchy side you opt for.
COFFEE BRAISED BEEF RIBS
Ingredients
Whole Beef Short Rib Plate
8 cups strong brewed Coffee
1 tablespoon Beef Base
AlbuKirky Seasonings Pinon Coffee Rub
Kosher Salt (to taste)
Instructions
Salt the rib plate and let sit at room temperature for 30 minutes.
Season generously with AlbuKirky Seasonings Pinon Coffee Rub.
Sear, meat side down, in a hot, well-oiled cast iron skillet 3-5 minutes.
Dissolve the beef base in the warm brewed coffee.
Set the grill/BGE up for indirect heat. Flip the rib plate bone side down in the pan. Pour in the coffee until it comes halfway up the side of the pan.
Cover pan with foil. Braise at 275 – 325º for 2 1/2 – 3 hours. Internal temperature of the meat should be 195º.
Remove the foil and cook an additional 20-30 minutes to let the sauce reduce. Add additional coffee during cooking if needed.
Pick up a bottle of our Red Chile Piñon Coffee Rub and give this recipe a try! You'll be glad you did!
Stock up on our rubs, sauces and jellies at AlbuKirkySeasonings.com and keep up with what we're cooking on our Facebook and Instagram pages. See you next time!