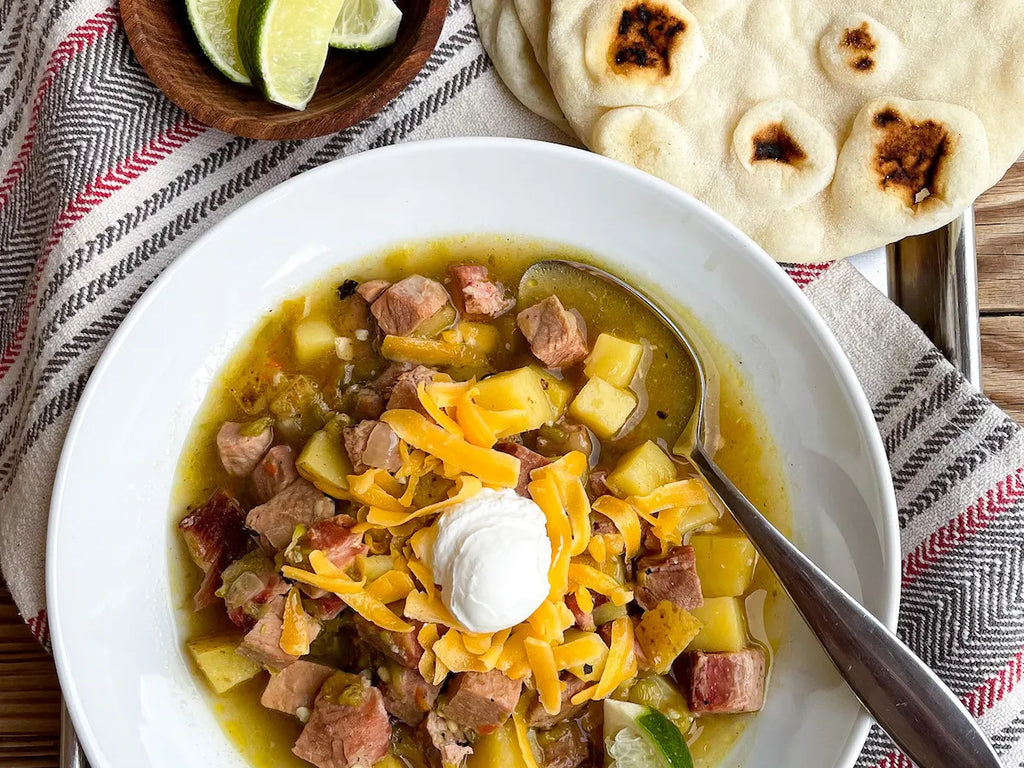 Updated February 7, 2022. The recipe for AlbuKirky Seasonings Green Chile Stew was originally published on our blog in November of 2016. Over the years, we have tweaked the original recipe making it easier to prepare and with better results. Find the detailed changes in the written recipe below.
When the weather turns cool and we need to warm up from the inside out, we make this. It's nothing fancy. There are no gourmet or difficult to pronounce ingredients. Everyone who resides in New Mexico makes a version. This is ours.
Green Chile Stew with Pork is about as basic as it gets…pork, potatoes, green chile, stock and a few aromatics. That's it. It simmers together and miraculously develops into a comforting elixir guaranteed to chase away the chill, battle a cold, or make a bad day disappear. Perhaps it can be best described as our version of chicken soup, but with more heat, more flavor and definitely more attitude.
Use Smoked Pork for Added Flavor
Our Green Chile Stew gets a double punch of green chile flavor by starting with smoked pork seasoned liberally with our AlbuKirky Seasonings Green Chile Rub. The smoke and the rub elevate the flavors of the meat, so rather than just starting with a plain cut of pork for the stew it actually marries with the fresh green chile. Each bite lets the smoky seasoned meat and the heat of the fresh chile play off each other.
We used to make this with smoked pork butt, but while pork butt is delicious, it takes a long time to smoke and renders quite a bit of fat into the stew. Instead, we now opt for the pork butt's leaner cousin, the pork cushion. It's just as delicious, but takes a shorter time to smoke and doesn't leave behind a lot of fat that might have to be skimmed off later.
Freeze Extra Pork for Quicker Prep Next Time
Most of the work for this dish takes place on the front end. Once everything makes it into the pot, sit back and relax while time and some gentle heat do the rest. We frequently smoke several pork cushions at once, use one in the stew, then chop up the rest, vacuum seal it and freeze for later use. When we're craving this stew, we grab a bag of previously smoked pork cushion from the freezer, let it thaw and throw everything into a pot. With very little effort, dinner is ready.
AlbuKirky Seasonings Green Chile Stew with Smoked Pork
Ingredients
one 2-3 lb pork cushion
AlbuKirky Seasonings Green Chile Rub
2 tablespoons olive oil
1 large onion, diced
3 cloves garlic, minced
1 pound hot green chile, cleaned & chopped
2 bay leaves
2 quarts water
1 tablespoon chicken base
2 pounds gold potatoes, cut into 1″ cubes
Salt & pepper, to taste
Cheddar cheese, shredded (for serving)
Sour cream (for serving)
Fresh lime (for serving)
Instructions
Generously season the pork cushion with AlbuKirky Seasonings Green Chile Rub.
Next, fire up the smoker using charcoal or the wood of your choice. Slow cook the pork cushion over indirect heat at 225º for 1 hour and 20 minutes per pound to an internal temperature of 170-175º. A 3 pound cushion should take about 4 hours.
Once the meat has reached the appropriate internal temp, remove from the smoker and let sit until it is cool enough to safely handle.
Chop the pork cushion into 1″ cubes and sit aside.
Drizzle the olive oil in the bottom of a large pot and sauté the onion over medium heat until just translucent, about 2-3 minutes. Add the minced garlic and continue to sauté, stirring constantly, for a minute longer.
Next, add the chopped green chile, stirring everything together, and season with a little bit of salt and a few additional shakes of AlbuKirky Seasonings Green Chile Rub.
Add the chopped pork cushion and the bay leaves to the pot and cover with 6-cups of the water.
Bring to a boil and stir in the chicken base.
Simmer for approximately 1 hour, stirring occasionally and adding more water as necessary.
Add potatoes and simmer for another 45 minutes until potatoes are tender. Season with salt and pepper to taste.
Serve with shredded cheddar cheese, a dollop of sour cream and a stack of warm homemade flour tortillas. Share with your friends if you're feeling generous.
This is a favorite in our house and it's even better warmed up the next day. We hope you'll try it soon! 
So stock up on our rubs, sauces and jellies at AlbuKirkySeasonings.com and keep up with what we're cooking on our Facebook and Instagram pages. See you next time!