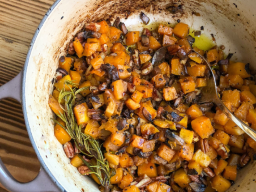 It's official. Fall has arrived and immediately I can feel it in the air. Here in Albuquerque, our transition into fall feels very different from the heat saturated days we encounter during the summer. The daytime temps hover around the mid to low 80's and the desert evenings cool off dramatically. While I love the fall, let me be clear, I am not a pumpkin spice loving girl. In fact, I resent that the PSLC (Pumpkin Spice Loving Community) has co-opted adjectives such as "cozy", "comfy", "snug", etc. Words I enjoy using, but now cringe at the sound of, because of their association with pumpkin spice.
Even though Pumpkin Spice is not my cup of…latte. I do appreciate the hearty vegetables that the fall harvest brings to the table. A squash I can get on board with? The butternut. Roasted butternut squash feels warm and rich, deliciously embracing both savory and sweet flavors. It shines in a multitude of recipes and it keeps for a long time, unlike many delicate summer vegetables. Combine it with portobello mushrooms, toasted pecans, and a sprig of rosemary and you have a surprisingly elegant side dish, bold enough to share a plate with a hearty piece of beef or sophisticated enough to elevate lighter chicken fare.
ROASTED BUTTERNUT SQUASH & PORTOBELLO HASH
Ingredients
1 butternut squash
1 large package baby portobello mushrooms
1/3 cup toasted pecan pieces
3 cloves garlic (minced)
3 tablespoons olive oil (plus more for tossing the cubed squash in)
6 tablespoons butter (divided)
1 sprig fresh rosemary
1/2 cup – 3/4 cup dry white wine or chicken stock
AlbuKirky Seasonings Casa Seasoning to taste
Additional salt & pepper to taste
Instructions
Preheat oven to 400 degrees.
Cut butternut squash in half lengthwise. Scoop out seeds and pulp with a spoon and discard. Carefully peel exterior with a vegetable peeler. Cut into 1″ cubes. Add cubed squash to a large bowl, drizzle with olive oil and toss to coat. Sprinkle with AlbuKirky Seasonings Casa Seasoning and toss again.
Spread squash out in a single layer on a sheet pan and roast in the oven 45 minutes to 1 hour at 400 degrees. Halfway through the roasting process, take out the pan and use a spatula to turn the cubes of squash over, to encourage even roasting.
While the squash is roasting, clean the portobellos. Pull woody stems off and freeze for later use (makes great stock). Dice up the baby portobellos into 1/2″ cubes and set aside.
In a large pan over medium heat, add 3 tablespoons of olive oil and 3 tablespoons of butter. Add the minced garlic and sauté for about a minute, stirring constantly.
Add the diced baby portobellos and the rosemary sprig to the pan and sauté. The mushrooms will begin to give off liquid. Sauté until the liquid cooks off, about 15-20 minutes. During this time, deglaze periodically with a splash of wine or chicken stock to keep the mushrooms from scorching and incorporate the flavorful fond (little brown bits) accumulating on the bottom of the pan, into the hash.
Turn off the heat under the pan, add the roasted squash to the mushrooms. Stir in 3 tablespoons of butter, season with additional Casa Seasoning or salt and pepper, and top with the toasted pecans. Serve and enjoy!
We make this dish a lot when it starts to cool off. It's hearty, full of flavor, and pairs well with just about any main dish. Imagine just having a bowl of this hash and topping it with an over-easy egg for an impromptu dinner. Hmmmmm, the wheels are turning…!
Stock up on our rubs, sauces and jellies at AlbuKirkySeasonings.com and keep up with what we're cooking on our Facebook and Instagram pages. See you next time!