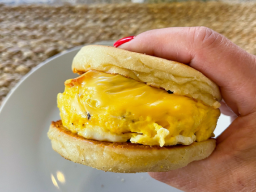 We've been making this version of a particular famous breakfast sandwich for a number of years now. It's much better than the fast food variety, can be changed up to use whatever you have on hand, and is made mostly in the microwave. It's early! I'm hungry! So, let's get started on this homemade breakfast sandwich!
Ingredients are fairly basic, just an English Muffin, a couple of eggs, a piece of ham, a slice of cheese and a generous smear of butter to grease the inside of your cooking vessel.
Cooking Vessel
A word about the "cooking vessel". The thing you decide to cook your egg mixture in is probably the most important part of this recipe. A deep ramekin or mug can easily be used. But I purchased two of these large Corningware Soup Mugs several years ago and they are pretty much perfect for this application. You can pick them up online, but our local Walmart usually has them available in the store. They come with a lid that has a vent. So the vent can be opened during the cooking process and closed while trying to melt the cheese. And since all of the "cooking" for this recipe takes place in the microwave, the lid and the mug are microwave safe. Plus the size is comparable to the circumference of an English Muffin, so that's another win.
Ingredients
A word about the ingredients. What you see pictured is just what I used to make these sandwiches on the day I took these pictures. So, you could easily replace the English muffin with a couple of slices of toast, a bagel, biscuit or whatever other tasty bread things you have on hand. Then the ham can be replaced with a slice of cooked bacon, a piece of Canadian bacon, cooked crumbled sausage. Or you could leave the meat off entirely. And lastly, I used American Cheese. But a slice of good cheddar, provolone, mozzarella or shredded versions of any of these can be used. Do you have a few chopped veggies sitting in the fridge, like bell pepper, mushrooms or broccoli? Dice them up and stir them into the eggs. Anything goes!
I'm partial to our Casa Seasoning, so every egg dish I make gets a sprinkle of this at some point during the cooking process. It's the perfect combination of cracked pepper, sea salt and granulated garlic with a little lemon juice powder in the background. Indeed, it's everything you want on a savory egg dish and more.
Everything gets placed into the mug and then spends one minute in the microwave. Pull it out, rough it up a little bit with a fork to expose any uncooked egg. Then give it one more minute in the microwave.
Once cooked, top it with your cheese of choice, cover it, wait a couple of minutes for the cheese to melt and you're ready to build your sandwich.
HOMEMADE FAST FOOD BREAKFAST SANDWICH DUPE
Ingredients
1 English muffin
1 slice of ham
2 eggs
1 slice of American cheese
Casa Seasoning (to taste)
Butter (for greasing the inside of a deep mug)
Instructions
First, fork split the English muffin and toast in the toaster or griddle in a pan.
Generously butter the inside of a deep mug and layer in the slice of ham. Next, add the eggs and seasoning, and mix slightly with a fork.
Cover the mug securely, but be sure to vent it. The eggs will pop if not covered. Now, heat in the microwave for one minute.
Remove the mug from the microwave, remove the cover and stir again with a fork. The eggs may appear to be cooked at this point, but stirring them will reveal that they are still raw in the middle. Replace the cover or lid and microwave one more minute.
Next, remove from the microwave and remove the cover/lid. The eggs should be set. Place the slice of cheese on top and cover the mug again with the lid making sure the vent is closed. Or cover with a clean, folded kitchen towel. You can use anything that will trap the heat inside and melt the cheese. Let sit 2-3 minutes.
Remove the cover/lid and place the cooked ham, egg and cheese mixture on one half of the English muffin. Lastly, top with the other half.
Enjoy!
This sandwich takes literally 5 minutes to make including toasting the English muffin. There is only one dish and a fork to wash and best of all, you didn't even have to turn on the oven. I don't know how much easier (or better) a breakfast sandwich can get.
Stock up on our rubs, sauces and jellies at AlbuKirkySeasonings.com and keep up with what we're cooking on our Facebook and Instagram pages. See you next time!